Over the past few weeks, we have explored the metaverse looking at Decentraland and The Sandbox. We also looked at the play-to-earn model and the crypto games that could be implemented within them.
These were great examples of how blockchain may alter how people interact with a virtual environment and how gaming as we know it may change. However, can blockchain shift how we interact with our favourite sports teams? This is where the project Chiliz has been pioneering the approach.
What is Chiliz?
Chiliz is a platform for the tokenisation of sports and created the world's first tokenised sports exchange. If we look at any civilisation throughout history, there has always been an emphasis placed on sport; there are very few parts of the world that you can point to that didn't have a sport in one form or another. The earliest emergence of sport can be traced back over 15 000 years to cave paintings in France that depicted wrestlers. Sports are so important they are home to some of the most prominent buildings ever constructed and even have had their own holidays. We can still safely say that not much has changed in the 15 000 years since it emerged.
The modern business model of sport has remained consistent for many years and has been hugely successful in its own right. According to Business Wire, the sports industry is expected to be worth $501 billion in 2022, growing to $707 billion by 2026. Nevertheless, two constant problems have persisted since ancient times, engagement and funding. From Augustus Caesar 2000 years ago having to fund the games out of his pocket to today's governments having to step in and support those sports that don't command as much screen time as others. Engagement is the second problem sports encounter. Sports organisations spend millions every year trying to get fans to actively participate in all things related to the club or team, directly or indirectly. We have even seen the format of some sports change to get spectators and fans to increase their engagement. A great example is cricket introducing 20-over leagues to make it more exciting and action-packed.
While this is an age-old problem, blockchain may be able to introduce a new way of increasing fan engagement and tackle the traditional funding problem, and this is what Chiliz has set out to achieve.
Chiliz was founded in 2012 as a part of the international sport and entertainment organisation Mediarex Group. However, it wasn't until 2018 that development began, and Chiliz launched its token CHZ in October of the same year.
Chiliz is a platform that allows fans to "own" a part of their favourite sports team. The degree to which fans can influence decisions depends on the club itself, as they can decide what rights the token bestows. Many clubs have allowed fans who own the tokens to participate in club surveys and influence decisions such as what song gets played when the team walks out or scores a goal, the message on player's armbands, the design of a branded scarf or the mural to be hung on the wall in the teams dressing room. Fans can also trade these tokens to increase their voting rights within the club. While these might seem trivial decisions, it paints a picture of what may be possible in the future and prove a use case for these tokens.
The Chiliz token is different to that of the fan tokens, and this is where their application, Socios, plays a significant role. While CHZ is the backbone of the whole system, you can think of Socios as the heartbeat.
What is Socios?
Socios was the first consumer-facing application created by Chiliz. It is their fan engagement and rewards app used by fans to interact with their sports teams and where they use their tokens to vote.
The Socios platform is built on a private side-chain secured by Proof of Authority. This approach has helped alleviate gas fees and other issues that arose from conducting all transactions on the Ethereum mainnet.
CHZ, the token, is the only non-fan token that can be used on the Socios platform and therefore acts as the in-house currency of the whole network. Fan tokens have become a core component of the Socios offering; in November 2019, they launched their first "Fan Token Offering" in collaboration with the Italian football team Juventus, selling 1.3 million tokens. Since then, they have continued to go from strength to strength and have increased both the number of football teams that have launched fan tokens as well as the number of different sports. The football teams include some of the best known in the world, such as FC Barcelona, Paris Saint-Germain, AS Roma, Galatasaray and Atlético de Madrid. However, it doesn't stop there; they have created over 150 partnerships across 25 countries, including gaming, fighting, motorsport, basketball, tennis, American Football, ice hockey, MLS and Rugby. The list is comprehensive, and for a full view, you can go here.
As stated previously, what the holders of the fan tokens can vote on varies between the sports teams, with some allowing fans to make a decision on a much broader number of choices. These, in some cases, have directly affected what the fans wear and hear to what the players have in their change rooms.
Socios has five core sections/features:
Trading Section: once you have acquired your CHZ tokens, you can use them for trading your team's fan token. There are a variety of these tokens, and they all have their own prices and volumes. Certain tokens are demanded more than others, and this free market system helps the team put their tokens into the hands of those who want the most vote.
Polling Section: This is where the team or club will survey those who hold the token and allow them to vote on team decisions. This is where the heart of the fan token lies, the ability to engage with your team.
Rewards Section: The rewards that are on offer vary from team to team; this can include discounts on official team merchandise or other perks such as meet and greets.
Fan Token Hunt: Socios holds a daily token hunt. It uses the application and augmented reality to project the token into your surroundings. Every 12 hours, you can look for six different "mystery" tokens in your vicinity. Each token contains a 1 in 10 chance of finding a team token and a 9 in 10 chance of finding 5 CHZ tokens. This is again another way of engaging with your favourite sports team and builds further interest in Socios and, indirectly, Chiliz.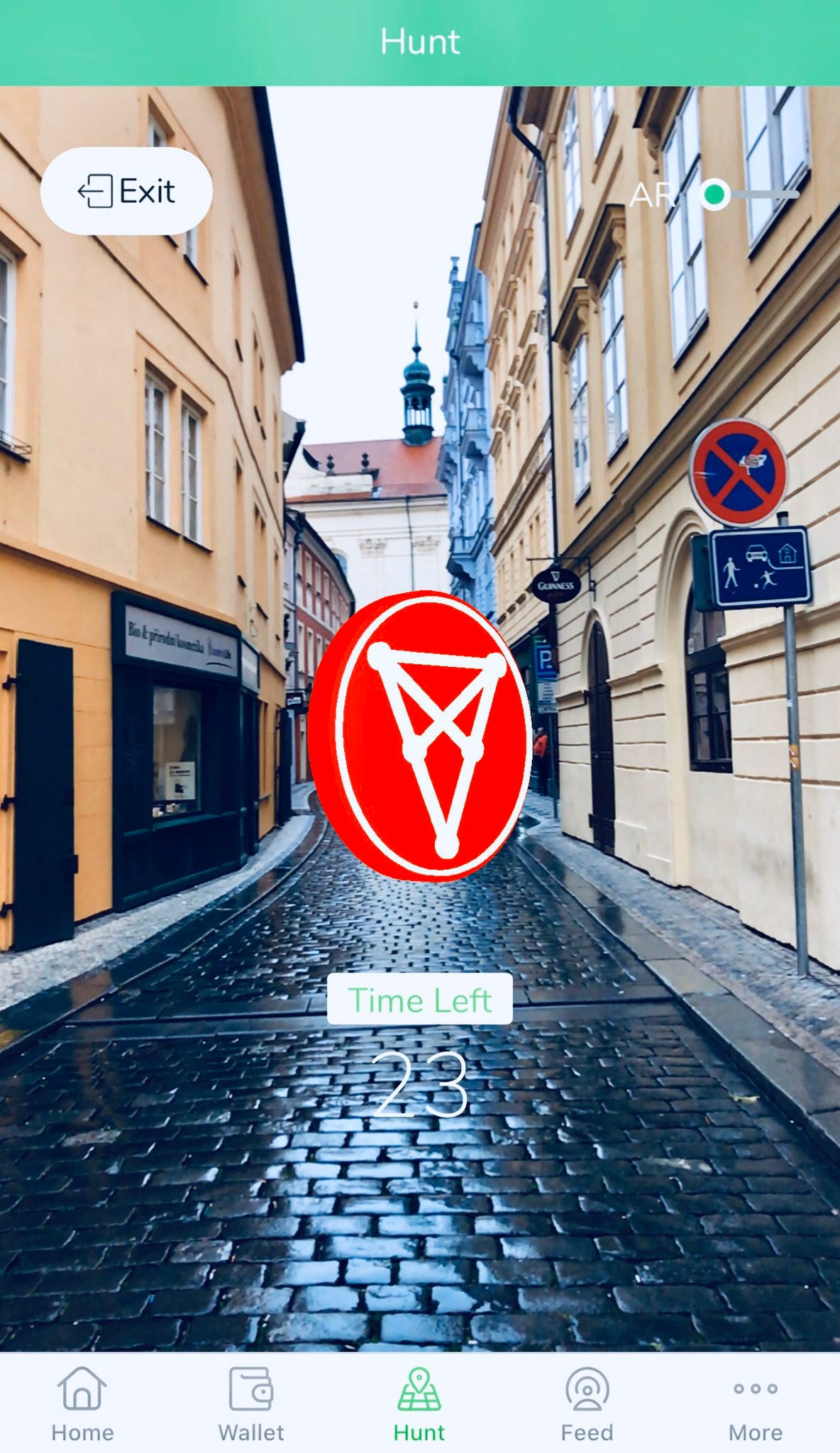 Locker Room Feature: This is a handy tool for the teams. The feature was designed to allow teams to monitor the demand for the team token. Each sport has seen different demand for its fan tokens, but as they create more utility for those who use them, we expect them to become more and more popular.
Chiliz didn't just stop at fan tokens and also realised that there was a market for branded digital club collectable NFTs.
Enjin and Chiliz
In the February of 2020, Chiliz and Enjin, in collaboration, launched a series of NFTs focused on specific clubs. These were immediately met with demand as they were similar to sports trading cards of old. They used the ERC-1155 standard to mint these as Enjin had pioneered this standard over time.
Chiliz even took it one further, and in collaboration with Chainlink, the blockchain data provider/ oracle, they have created the ability to mint NFTs in real-time. This was something that had never been done before; that means when your favourite player scores a hat trick or your team wins with a goal in the last minute, you can instantly buy a limited edition NFT of it. These may have huge demand going forward and push the boundaries of what is possible regarding sport-specific non-fungible tokens. It also provides an interesting use case for NFTs that hasn't really been touched on before; these can be used to create a snapshot of any significant event in time, sports-related or not.
The Scoville Blockchain
One of the most recent announcements made by Chiliz is that of their Scoville blockchain. In April of 2022, Chiliz launched the testnet version of their custom blockchain. The thinking behind this was that the team never envisioned Socios to be the sole product that used Chiliz; they also wanted to ensure that the CHZ token didn't operate purely as a medium of exchange within the broader Chiliz ecosystem. With the introduction of their new blockchain, they can expand their offering to many different aspects and verticals of sport and engagement. Chiliz Chain 2.0, an EVM-compatible chain, will enable teams and brands to have more control of their assets. As it currently stands, all development is done by the Socios team; with the introduction of Chiliz Chain 2.0, the ecosystem will be more open and provide third parties (who are pre-approved) the opportunity to build alongside the Socios team. This can create new uses and ways to monetise fan tokens beyond what Socios offers; these will be anything from play-to-earn games to integration into DeFi.
Socios Legality
As with most crypto projects, the legality of Chiliz and Socios is something to be mindful of. Nevertheless, we have seen Chiliz being more readily adopted than most. The platform Socios was given regulatory approval in Italy on the 18th of August 2022 to act as a service provider of virtual currencies and digital wallets. This was a significant step toward the adoption and acceptance of fan tokens in general.
Getting Started With Chiliz and Socios
With a basic overview of what Chiliz and the Socios platform are, we can use them to purchase our first fan token.
You have two options, a web or mobile app. Their mobile app is the most popular as the web app is currently still in beta.
Step 1: Visit the Google Play or iStore
Download the Socios app on Google Play or the iStore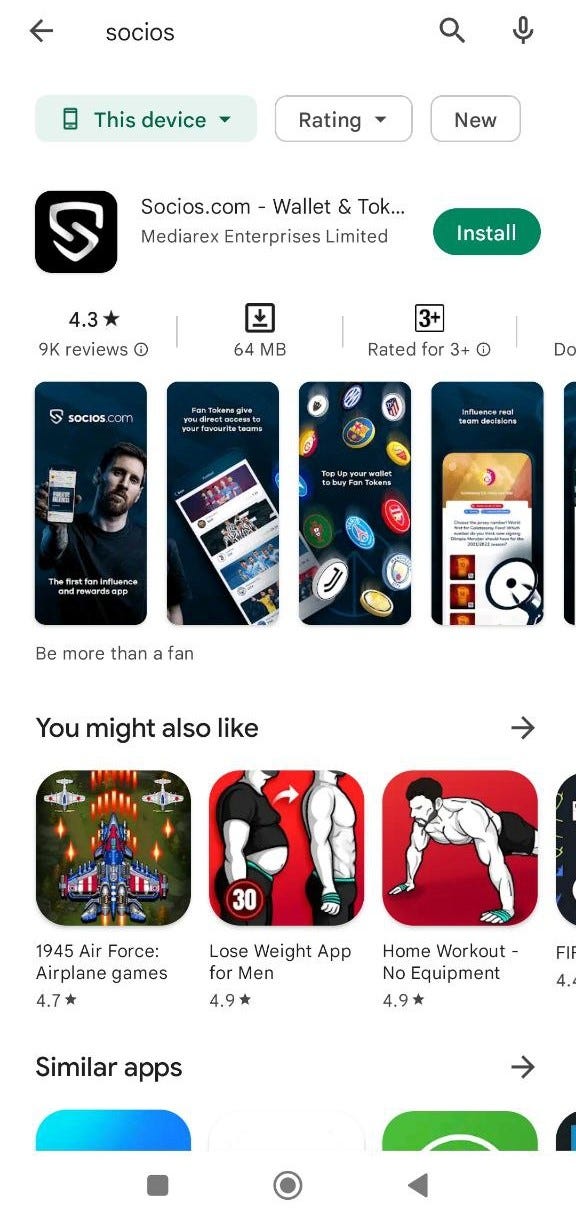 Step 2: Register an Account
Once you have downloaded the app, open it and click Get Started
You will be prompted to input your mobile number
Click Send Verification Code
Complete the security check by dragging the piece of the puzzle to its slot
Enter the six-digit code that has been sent to you
Complete the registration by inputting your details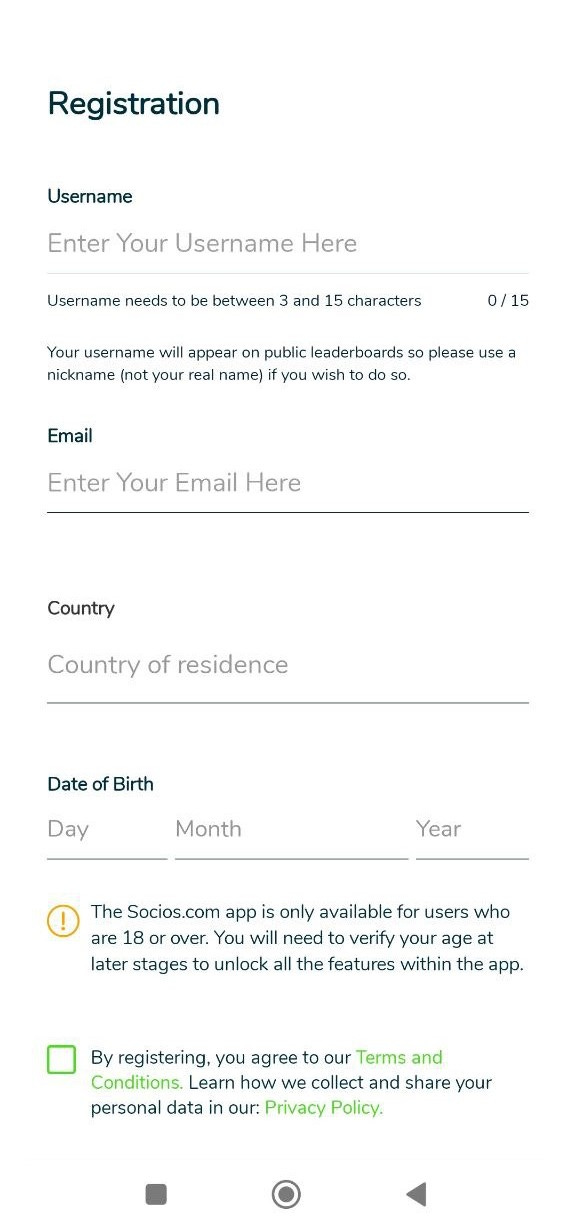 Click Register Now
Step 3: Fund Your Account
Now that you have registered your account, the next step is funding it. This can be done through both centralised and decentralised exchange. Until you have transferred CHZ to your wallet, you won't be able to interact with the system as it is the principal in-house currency of the Chiliz and Socios platforms. We recommend you follow the respective exchange withdrawal documents to complete it safely.
Step 4: Purchase Fan Tokens
Once you have successfully funded your account with CHZ, you will be able to trade fan tokens, vote on team decisions and participate in the hunt for mystery tokens.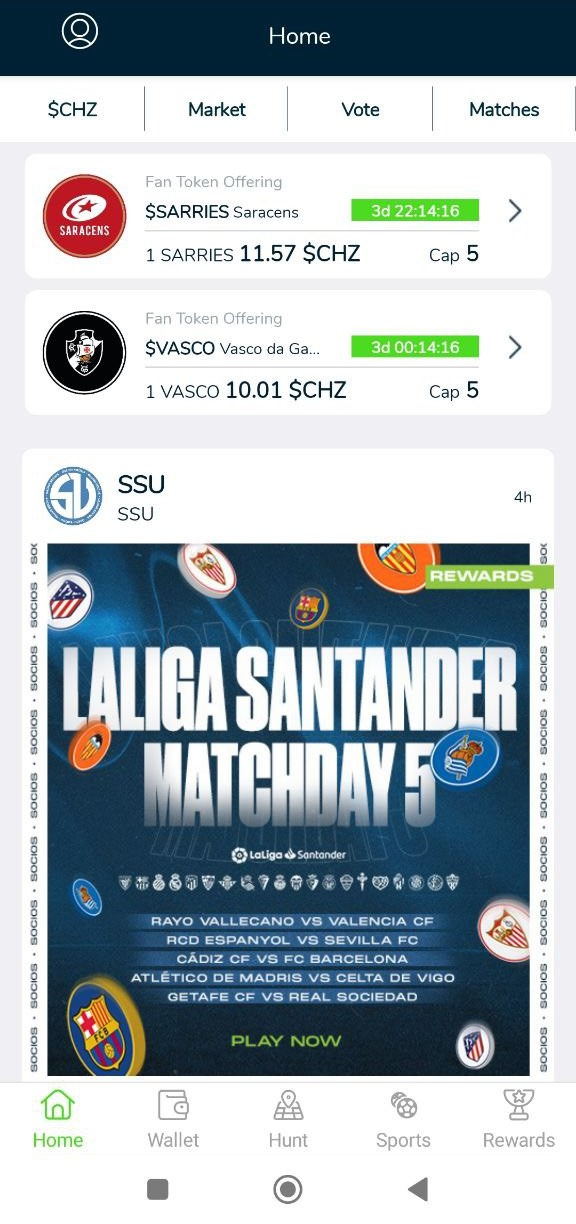 Conclusion
Chiliz has been a pioneer in the sports tokenisation industry. They have seemly gone from strength to strength and have formed partnerships with some of the best know sporting brands in the world. They have continued to innovate over time and intend to stay at the forefront of the blockchain-based sports revolution.
Whether they can solve the funding and engagement problem remains to be seen; nevertheless, they have positioned themselves well to do it.
For the first time, a broad group of people living in different countries can come together and make decisions for the teams they are passionate about. One thing is for sure though, sport is not going anywhere, and it may be in for a change.
–
If you are interested in staying up to date, please subscribe to our newsletter at etherbridge.co
This is not financial advice. All opinions expressed here are our own. We encourage investors to do their own research before making any investments.